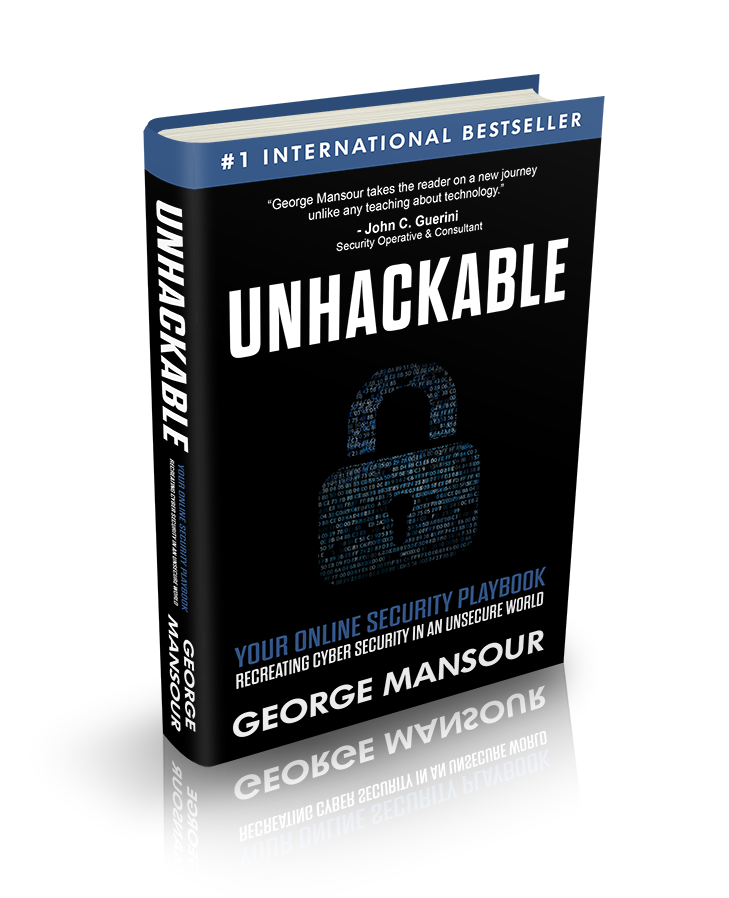 Now Available on Amazon!Unhackable: Your Online Security Playbook: Recreating Cybersecurity In An Unsecure World
Terrified about identity theft and data breaches? Discover a foolproof method to protect your information and get online peace of mind.
Are you worried about your family members getting scammed or hacked? Want to keep your computers and phones protected with iron-clad security? Certified Microsoft Systems Engineer and cybersecurity expert George Mansour has helped individuals and businesses protect their data for over 15 years. Now he'll share his simple system for safeguarding your valuable digital life.
Unhackable provides you with a unique cybersecurity strategy that combines user psychology and easy-to-apply techniques that teach you how to become your own strongest line of defense. Informative and insightful, Mansour uses anecdotes, professional experience, and step-by-step procedures to make protecting your personal data as easy as hitting the power button.
In Unhackable, you'll discover:
- The hidden dangers of day-to-day technology and how to avoid them
- Clear steps to ensure your data and privacy are protected
- How to secure yourself and your family from identity theft no matter what devices you're using
- The hack-proof mindset every user can easily adopt to stay safe
- What to do if you experience a malicious intrusion or ransom situation and much, much more!
Unhackableis a transformative look at increasing your online security in a fast-changing world. If you like infallible safeguards, actionable advice, and easy-to-implement strategies, then you'll love George Mansour's game-changing resource.
Ready to Become a Leader?
Get an exclusive consultation with George Mansour, the author of "Unhackable" today: